So you've been hearing the word that yoga is "in". All the celebs are doing it, Olympian athletes, and now even your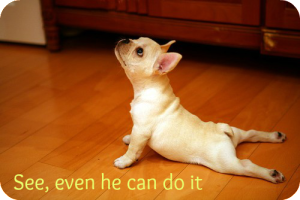 own friends. Time to jump the yoga bandwagon! But your nerves are still warning you to remain clear, huh?
It is completely normal to feel nervous for your first yoga class experience. Thoughts like "I'm not flexible/strong/fit enough to do a yoga class" may whirl in your mind. Stop! You are flexible/strong/fit enough, because yoga is meant for what you (that's right, we're talking to YOU) are capable of at this very moment. There is no barometer that measures whether or not you are "yoga-worthy" to participate in this fantastic form of exercise. Rather, yoga encompasses all levels of yogis (male yoga practitioners) and yoginis (female yoga practitioners).