Zen Vibe Yoga LLC offers Thai Bodywork, also referred to as Assisted Yoga Stretch Therapy. Owner, Lauren Wilsman, is a Certified Vedic Thai Bodywork practitioner. Her training was done through the internationally recognized Vedic Conservatory.
Click HERE for what to expect at your Thai Bodywork session.
Somatic [Physical] Benefits of Thai Bodywork ॐ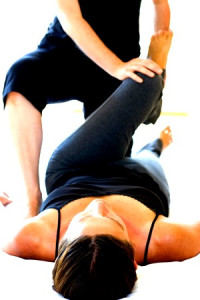 Eliminates soreness and pain (e.g. fibromyalgia, arthritis)
Improves cardio and pulmonary circulation.
Enhances range-of-motion [ROM] and mobility.
Transforms cellular memories.
Removes muscular adhesions.
Cleanses old interstitial fluids.
Oxygenates the blood.
Encourages positive postural alignments.
Opens nadi blockages.
Purifies chakra functions.
Tranquilizes the nervous system.
Refreshes the skin assemblies.
Supports spinal construct (e.g. scoliosis)
Cerebral [Emotional] Benefits of Thai Bodywork ॐ
Soothes emotions.
Creates a greater sense of foundation and stability.
Inspires and exhilarates the soul.
Produces profound rest and relaxation.
Induces mental clarity.
Releases antiquated and non-serving thoughts.
Enlivens creativity.
Strengthens resolve.
Enriches moods.
Develops more emotional fluidity.
Establishes purpose and spiritual goals.
RESOURCE: Vedic Conservatory
For Inquiries & to Book Your Session Call


(352) 246-1311



Click HERE for Thai Bodywork Pricing
thai massage downtown GAINESVILLE fl, thai massage downtown gainesville fl, thai massage downtown gainesville fl, thai massage gainesville fl, thai massage 32601, 32602, 32603, 32604, 32605, 32606, 32607, 32608, 32609, 32610, 32611, 32612, 32613, 32614, 32627, 32635, 32641, 32653, Gainesville fl private yoga, Gainesville fl yoga, Gainesville fl yoga lessons, Gainesville florida yoga, yoga in Gainesville fl, thai body work Gainesville fl, yoga, private yoga  32601, 32602, 32603, 32604, 32605, 32606, 32607, 32608, 32609, 32610, 32611, 32612, 32613, 32614, 32627, 32635, 32641, 32653, private yoga lessons 32601, 32602, 32603, 32604, 32605, 32606, 32606, 32607, 32608, 32609, 32610, 32611, 32612, 32613, 32614, 32627, 32635, 32641, 32653, private yoga Alachua county fl, yoga Alachua county Gainesville fl, private yoga lessons Gainesville fl, private yoga lessons Alachua county fl, yoga university of florida, private yoga near university florida, private yoga uf Gainesville fl, yoga downtown Gainesville fl, private yoga lessons downtown Gainesville fl